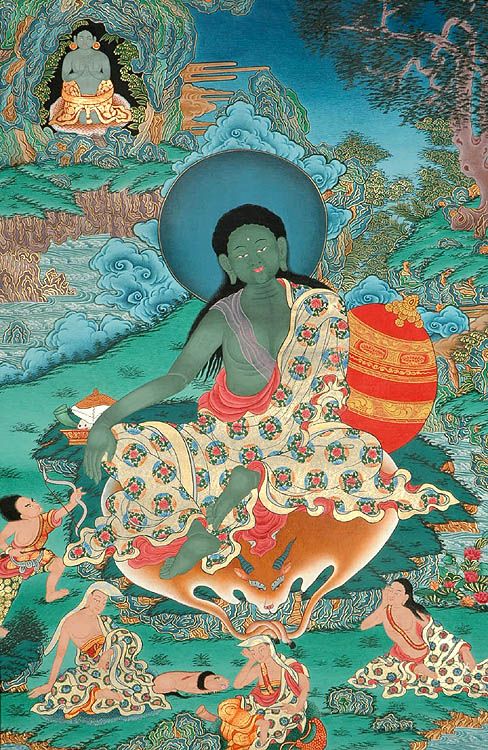 Milarepa
The affairs of the world will go on forever.
Do not delay the practice of meditation.
Milarepa, 1052-1135, is a major figure in Tibetan Buddhism. He wandered from village to village, teaching enlightenment and the path to Buddhahood through his songs. Wherever he went, crowds of people gathered to hear him sing the Dharma. The facts of his life are in a biography written by one of his chief disciples, Rechung.
the poetry of Milarepa

May I be far removed from contending creeds and dogmas.
Ever since my Lord's grace entered my mind,
My mind has never strayed to seek such distractions.
Accustomed long to contemplating love and compassion,
I have forgotten all difference between myself and others.

Accustomed long to meditating on my Guru as enhaloed over my head,
I have forgotten all those who rule by power and prestige.
Accustomed long to meditating on my guardian deities as inseparable from myself,
I have forgotten the lowly fleshly form.
Accustomed long to meditating on the secret whispered truths,
I have forgotten all that is said in written or printed books.
Accustomed, as I have been, to the study of the eternal Truth,
I've lost all knowledge of ignorance.

Accustomed, as I've been, to contemplating both nirvana and samsara as inherent in myself,
I have forgotten to think of hope and fear.
Accustomed, as I've been, to meditating on this life and the next as one,
I have forgotten the dread of birth and death.
Accustomed long to studying, by myself, my own experiences,
I have forgotten the need to seek the opinions of friends and brethren.
Accustomed long to applying each new experience to my own spiritual growth,
I have forgotten all creeds and dogmas.

Accustomed long to meditating on the Unborn, the Indestructible, the Unchanging,
I have forgotten all definitions of this or that particular goal.
Accustomed long to meditating on all visible phenomena as the Dharmakaya,
I have forgotten all meditations on what is produced by the mind.
Accustomed long to keeping my mind in the uncreated state of freedom,
I have forgotten all conventions and artificialities.

Accustomed long to humbleness, of body and mind,
I have forgotten the pride and haughty manner of the mighty.
Accustomed long to regarding my fleshly body as my hermitage,
I have forgotten the ease and comfort of retreats and monasteries.
Accustomed long to knowing the meaning of the Wordless,
I have forgotten the way to trace the roots of verbs, and the
sources of words and phrases. 
You, 0 learned one, may trace out these things in your books
  


home page
TIBET